Career Studio is Transforming the Education Industry With its Innovative and Interactive Learning Platform. Headquartered in Pune-Aund, Career Studio creates highly engaging, flexible, cloud-based and device-enabled learning platform and tools designed to meet the needs of both faculty and students. Our mantra is "LEARN SMARTER, NOT HARDER"​. Our PrepEngine reflects this philosophy where you can start learning within a minute without trying to figure out the software. Our software helps you learn the right way, wherein you can put your knowledge and understanding into application right away. Career Studio's commitment to product quality, to our team and to our customers continues to differentiate us from other IT certification prep companies.
Career Studio is offering awesome E-Learning Day deal where you can shop for USD 600 or more and get USD 15% off. So, visit our award-winning e-learning platform of 400+ titles, pick-up the right course for you, and start your prep. Don't delay because the sale is ending on 19 Dec 2019!
Pearson VUE™ and Career Studio have partnered to bring you robust learning solutions inside E-Learning user-friendly and flexible platform!
Our courses can be offered in 3 different formats: Instructor-led, self-paced and hybrid. To see for yourself, please explore expression of interest for trial versions of our available courses below!.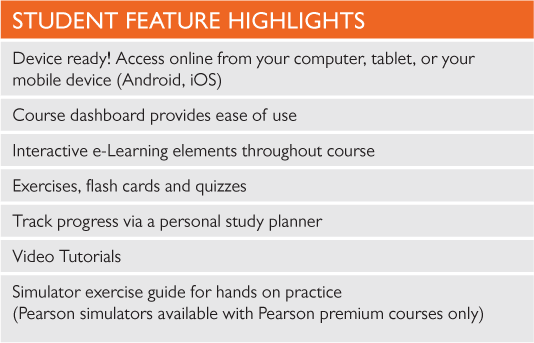 Career Studio is a well-established professionally managed leading in IT technology training & placement service provider. We are able to constantly provide clients with high quality tailored programmes. The portfolio consists of highly qualified trainers with 10+ years of relevant experience, accreditation of prestigious certification and professional bodies.
Career Studio trainers & Mentors are highly qualified, experienced and professional trainer & Counselors. Career Studio trainers always went extra miles to get trainees to the level where we can understand the real industry expectation & scenario. Career Studio trainers are true professional and on top of it, they have always taken care of things like trainee's background, skills, knowledge level and overall personality. And matched it with the knowledge trainees were looking for". Career Studio trainers makes difficult subjects look so easy and interesting with their extraordinary teaching & training skills. Our Professionally trained "Career Advisors" & "Mentors" manage career from ambition till achievement with the help of innovative tools and technology developed by the organization
It is an extra-curricular programme from our Career Advisors and Mentors, to plan candidate's practical skills and knowledge by the pathways through most authentic and up-to-date information of organizational and professional behaviours, work culture and etiquettes, current/upcoming technology platforms etc. We provide impartial guidance to select right career goal and profession based on candidates' satisfaction survey.
Reference to current market requirements for technology professionals, we provide multiple professional IT technology certification like Microsoft Professionals, Oracle, Cisco Professionals, VMware, Software Testing and many more. Candidates are trained to enhance their competencies and skills to match the current requirements. These certifications in their career makes them most preferred or recommended candidate for the specific job requirement in that respective field. In absence of a proper career guidance & plan, most of the people waste their irreversible time, money and qualification, waiting endlessly for an unknown "good" opportunity and later on either find faults with others or make excuses. We know that the right career selection is not an easy task and hence understand their situation. Remember even the best player requires a coach' We help our candidates to "Re-Design" their career, so they can go in right direction and enjoy their life. Our Career Re-Design Programme is a key to unlock the right door of right career. By career assessment we try to discover candidate's true interests and skills. Then we set S.M.A.R.T. (Specific, Measurable, Acceptable, Realistic and Time-specific) career goals. We make sure that the candidate should get strategic career management, to be on right pathway on their further career.
Our mentors have the hands-on experience in preparing IT professionals for the real world. We have developed a training and certification solution that provides tangible results in an efficient and cost effective manner. Additionally, our labs have all the latest equipment required to demonstrate the hands-on knowledge specific to your company's need.
Our clients come to Systems & Networks Technologies because they realize the power of live training and dynamic instruction is far superior to their own self-study or self-directed, e-learning solutions.
Some of the largest companies and government agencies in India send their employees to Systems & networks Technologies. A corporate reference list is available upon request.
Key factors that make us the preferred learning partner:
Certified trainers with Considerable Industry Experience
Hands on instructor led training
Flexible: staff can study where and when it suits them
Weekend Workshops Support on various advanced topics
Syllabus based truly on industry base curriculum
Customized training for your organization as per Project Role & responsibility of Company
Our program directors and course writers are available to work with you in developing a tailored program to ensure we reach all of your objectives.
 For corporate training, please mail us to corporate@careerstudio.co.in